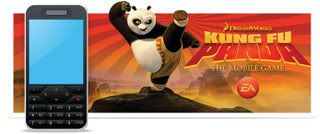 Publisher: EA

Mobile


Developer: EA LA
Category: Action
Release Dates
Electronic - 06/04/2008

Description:
Prepare for Awesomeness – on your phone! Play the official

mobile

game based on the characters, locations and storyline of DreamWorks Animation's

Kung Fu

Panda™. Players can take advantage of unique fighting styles as they step into the roles of both the hero Po and the villain Tai Lung. As Po, they must train hard to protect the Valley of Peace and achieve the status of

Kung Fu

master. Players may also assume the role of the treacherous snow leopard Tai Lung and set out to steal the legendary Dragon Scroll. Characters have to jump, run, dodge and duck through 10 action-packed levels as they learn to fight with tradition and honor. With success, a secret character is unlocked in this fun, exciting

mobile

adventure.